NABOR®'s Young Professionals Network (YPN) is designed for members (REALTORS®, Allied and Affiliates) under 40 years old.
The Young Professionals Network will encourage, promote, and empower NABOR® members that are under 40 years old to thrive in Naples real estate through education, networking and volunteering.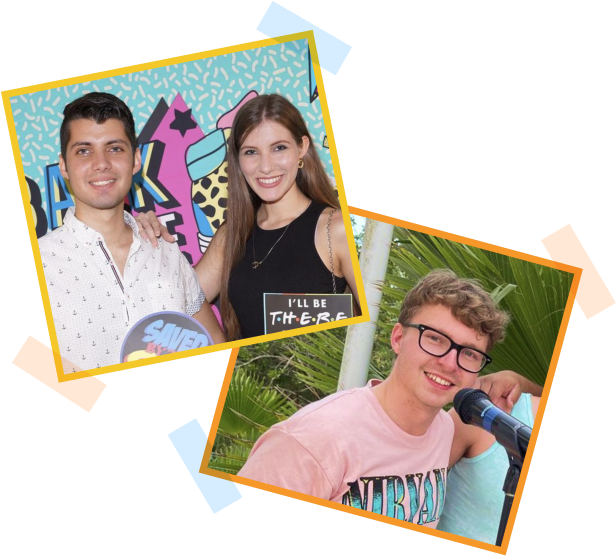 YPN core areas
The purpose of YPN is to help young real estate professionals excel in their careers by giving them the tools and encouragement to become involved in several core areas.
REALTOR® Associations
---
Attend REALTOR® conferences and pursue leadership roles with their local, state, and national associations.
Peers
---
Network and learn from one another by attending events, participating in online communication, and seeking out mentoring opportunities.
Real Estate Industry
---
Take an active role in policy discussions and advocacy issues; be informed about the latest industry news and trends.
Community
---
Become exceptional members of their community by setting a high level of REALTOR® professionalism and volunteering for causes they feel passionate about.
Why YPN
YPN Success Stories
Hear from 2021 YPN Committee Chair Mariana Birmingham, 2021 NABOR® President Corey McCloskey and 2021 NABOR® Treasurer Nick Bobzien, as they share their experience on YPN and how it has helped shaped them and their careers.
YPN Testimonial
2018 YPN Committee Chair, Brian Giacomello, shares his biggest takeaways from being a part of YPN.
YPN Testimonial
Past committee member, Maria Sloboda, talks about the benefits and value of joining YPN.
YPN "Cool" Music Video
YPN members star in the network's first ever music video, which highlights some of Naples, Florida's most popular points of interest.
Connect with YPN
Meet the YPN Committee Chair
Henry Albarracin's passion is real estate. He became a REALTOR® in 2018. He prides himself on consistently working on his craft, with service leadership guiding him in everything he does. In 2020 he joined NABOR®'s Young Professionals Network Committee looking for an opportunity to expand his network and become more involved with the board. His passion shown through and after only one year on the committee he was selected to be the 2021 Vice-Chair. He was also accepted to be on NABOR®'s 2021 Leadership Academy where he is honing his leadership and business management skills, which he says helps him serve his customers better and more effectively. Henry genuinely loves what he does and it's evident in the energy he pours into getting to know the needs and dreams of his customers, along with the energy he pours into his professional growth.
Outside of NABOR®, Henry has also been involved with the National Association of Hispanic Real Estate Professionals® (NAHREP®), working as their Marketing Director.
When Henry is not busy serving his customers or community, he enjoys spending time with his family and staying active.
Meet the YPN Committee Vice-Chair
Allisa found her passion for real estate in the summer of 2020 and immediately knew she wanted to be involved with NABOR®. She joined the Young Professionals Network Committee in 2021 to develop her dedication to leadership, service, networking and growth through education. As a member of the RPAC Committee as well, she has the desire to impact the wellbeing of her state and to give a voice to her community. Allisa's goal is to better the real estate transaction process through personal relationships, an excellence in customer service, and providing a network of the highest quality to each customer.
She has been a resident of Naples since 2015 and enjoys sharing her love of the Southwest Florida lifestyle with her three children, Emery, Elijah and Lincoln. When she's not working, she enjoys weight lifting, yoga, spending time on the beach and boating.